Windows 10 version 1507 build 10240 was released to manufacturing and for consumer downloading on July 29, 2015. New machines with Windows 10 factory installed are already widely available.
AMD and NVIDIA have drivers for Windows 10 are now available. The usual game issues with dual cards are the most common problem.
Many games continue to perform poorly. Recent builds have solved some problems, a clean install of Windows may be needed to resolve others.
We are now testing all of our games with Windows 10. See the page for games we find incompatible.
Microsoft is positioning Windows 10 on phones, tablets, notebook and desktop machines. Windows has to work with anything from 800×600 to 3920×2160 which is one of the motivations with the new desktop architecture.
Lots of notebook users are running Windows 10, and finding all manor of problems. Notebook machines are notorious for problems upgrading Windows. Forums galore are full of posts from users upgrading Windows. The reason is that vendors use whitelists and proprietary devices. They want to sell more machines, plain and simple. We installed Windows 10 on an old Toshiba machine and it was challenging to stabilize it. Our netbook was more successful.
SYSTEM REQUIREMENTS
If it can run Windows 7 or Windows 8.1, then you have no worries. A growing number of 64-bit only games makes the 64-bit disk perfunctory. Windows runs better with additional memory installed up to about 16GB.
Processor: 1 gigahertz (GHz) or faster processor or SoC
RAM: 1 gigabyte (GB) for 32-bit or 2GB for 64-bit
Hard disk space: 16GB for 32-bit OS or 20GB for 64-bit OS
Graphics card: DirectX 9 or later with WDDM 1.0 driver
Display: 800-by-600 resolution
Windows 10 x64 home can use 128GB max and Windows 10 x64 Professional can use 2TB maximum RAM.
FREE UPGRADE
Windows 10 build 10576 and above will now install clean and accept a valid Windows 7 or Windows 8 key. Windows 8 machines have their key installed into the firmware.
The following types of product key are supported:
Product keys that came with OEM Windows 7, Windows 8 and Windows 8.1 devices
Product keys that came with retail boxed copies of Windows 7, Windows 8 and Windows 8.1
Product keys purchased from online retailers like Amazon
Product keys purchased using the Windows Anytime Upgrade wizard
Product keys purchased using the Get Genuine Windows wizard
Windows 8.1 Pro Pack product keys can activate Windows 10 Pro
The Media Creation Tool can upgrade Windows 7 and 8. It can also make a USB stick or ISO image for use on another machine. The DVD is needed for UEFI installs for gaming desktops etc.
The upgrade offer is available for one year. This is not a subscription. After one year it those who want Windows 10 will have to buy a license like before.
ONE CORE
While Windows 10 was RTM in July 2015. Microsoft has been working in major upgrades to the core of Windows. The goal is to modularize the OS better for tablets, phones, netbooks, laptops and even desktops.
The 14nm factories can reduce power consumption considerably. Some modern laptops with Windows 10 can easily run for 16 hours before the need recharging. The are of course gaming laptops that use a lot more power. Phones and tablets need to be very low power to maximize battery life. Limited memory in phones and tablets have been the biggest motivation for the development of Windows 10. We expect that low-end phones will continue to have 512MB of memory and perhaps 4GB of flash storage.
UEFI
Modern hard disks are now over 8TB so disks need GPT to be able to even use the capacity. You will need a video card with UEFI BIOS in addition to a UEFI cable motherboard to use large capacity disks. You will need to wipe the disk clean to be able to enable UEFI and boot the Windows DVD. Rufus can make a bootable USB stick with UEFI so that 32-bit  and 64-bit hybrid installers can be created. An 8GB USB stick can be used for the hybrid installed which can then be used to upgrade any machine whether 32-bit or 64-bit.
The GOP is graphics output protocol. For desktops the goal is to enable the native panel resolution of the display before Windows is loaded. Some video cards do not support GOP so contact your vendor.
We upgraded our EVGA GTX 660 Ti FTW Signature 2 firmware for UEFI support but our older HD 6970 does not have an available UEFI BIOS. You can check your video card with GPU-Z. The newest versions of GPU-Z can now identify UEFI support with a video card.
To install Windows 10 with UEFI, change the BIOS to disable the default compatibility mode. Then reboot the BIOS should be in graphics mode before the DVD is loaded. Windows will configure the hard disk with GPT and then it will install. Reboots will be faster too as UEFI is better tuned for x64 systems. Now you can enjoy having a larger system disk.
MBR
Windows 10 will work fine with a legacy MBR partitioned disk. UEFI is mostly for supporting larger capacity boot disks. 2TB disks have fallen below $100, with large capacity models also suffering from price erosion. GPT can be used with a data disk easily while still using a MBR boot disk.
MODERN DESKTOP
The taskbar properties panel is shown and the Start Menu can be toggled. With the Start screen Windows 10 will boot up just like Windows 8.1 with the apps present and accounted for. In fact we seen the main change with Windows 10 to be the new desktop design leaving the Start screen unchanged. This approach seems to be an attempt to straddle legacy users better.
We play the Microsoft Sudoku once in a while and that game is available from the Windows store for free. Most of our games have long ago been moved to Steam and Origin so not many older games remain on he Start Screen anymore. We have shortcuts or Origin both on the modern desktop and pinned to the taskbar.
The Facebook app also is a live tile that many use for social networking. A lot of vendors also have apps to make shopping easier. New agency apps are another user of live tiles.
Many old games historically pinned a shortcut to the desktop which can clutter it up fast. A lot of games included shortcuts to the publisher and developer's websites. This is what led to the mess with the early incantation of Windows 8.
Many Windows 8 users have installed several apps to the modern desktop, which is why that mode is retained. We have numerous apps installed mainly to review and evaluate. A few of the old apps may need to be updated for Windows 10.
NEW START MENU
Windows 10 has a new start menu that is different from earlier releases. The menu is roughly similar to Windows Vista and 7 but its able to mix desktop and mobile apps which is nominally what should have been provided with Windows 8.
The taskbar has now added a new option that allows users to select the new desktop mode, or they can use the modern touch orientated user interface. When the switch is toggled, the user is required to log off so that the other shell can be loaded and vice versa.
The Start menu will be more like the one with Windows 7. Instead the apps will be more integrated into the menus. This is more intended for users of legacy software. We have many older games that we still like too play and the old style Windows start menu is workable. The modern Start screen provides live tiles which made it tricky with the new Start menu. There is a link at the top left corner to open the all aps menu. Handy tools like the weather are one of the most widely used apps.
We have Steam and Origin working fine. We also installed Arc which also working fine. We moved many older games from disk based to the Origin or Steam client. This reduced the number of games we had pinned to the modern desktop rather significantly. We downloaded a couple of games in Steam and Origin and they seem to be working OK. Check each game for specific recommendations.
Windows 10 has the old games menu which first appeared back with Windows Vista. Many games are recognized by Windows and links are collected into that group. Many game publishers now support the games folder. Game shortcuts can be placed in the desktop or on the start screen as desired.
APPS
All of the existing Windows 8 apps work fine. Gadgets are now gone.
By default the apps are stacked up like top level programs in Windows Vista and 7. If you look at the all programs in Windows 8.1 the list is the same albeit presented in a Windows 7 style Start menu. If you right click on the taskbar you can change Windows 10 to use apps like Windows 8.1 in tablet mode if you desire.
What used to be called All Programs is now called All Apps. This opens into a larger list from which programs can be selected from. With a clean install, there are now very few apps. Instead users are expected to customize the start screen.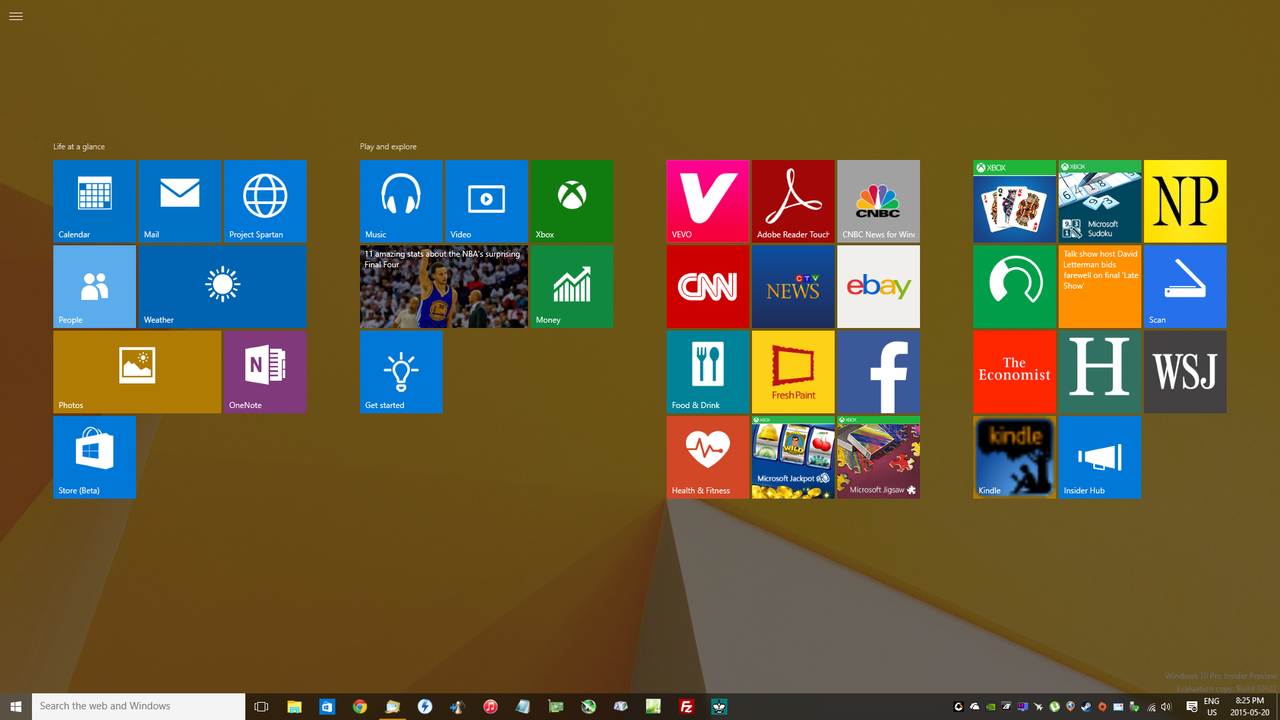 DIRECTX 12
Windows 10 includes the new DirectX 12 that was announced back in March 20, 2014. At the conference Microsoft showed the Xbox One game called Forza 5 running on Windows and a GeForce GTX Titan Black video card. NVIDIA has marketed their GTX 980 and 970 as DX12 cards. We expect that it may take 18-24 months for games to be developed that really show DX12's capability. Microsoft worked on DX12 for over 2 years before then announced it because its a complete rewrite from scratch.
Recall the problems with game compatibility the plagued Windows 8 before the 8.1 update was finally released that corrected all of the major problems. Microsoft has indicated that backwards compatibility will be better. We tested a few old games and generally the compatibility is excellent with Windows 10. Steam and Origin et al all work as well. Microsoft has worked hard to be sure that the mistakes with the early release of Windows 8 are not repeated.
The modular architecture is more capable with threaded programs. Most games today and multithreaded so this the direction games and hardware are moving. Early demonstrations are encouraging. DX12 is also more power efficient with some examples showing a 50% reduction in GPU load. This bodes well for more sophisticated and realistic game environments.
DX12 will work with GeForce 400 series and above and Radeon HD 7000 series and above fine. Older cards are now obsolete and should be replaced ASAP. Realistically, no game will require DX12 so users of older high-end cards will able to play games reasonably well. Even in 2015 many games still work with DX9 video cards. A modern 28nm video card is much more energy efficient so its pays for itself in power savings over time.
ASYNCHRONOUS SHADERS
DX12 introduces a new idea called asynchronous shaders. This works by expanding on the threads and taking more advantage of modern CPU and GPU architectures. This way the amount of time to render a given frame in a game can be done more quickly. It also means that developers can consider new options such as more lawns and other hard to render objects.
DX12 is designed to work well with modern processors. Recent consumer CPUs from Intel now feature more than 16 hyperthreaded cores.
SHADER MODEL
DX11 introduced the latest shader model 5. DX12 does not introduce a new shader model, instead the idea is to leverage existing high level shaders and run them more efficiently.  DX12 supports the idea of feature levels which make game engine designs simpler, so that developers can support a wider range of old video cards more effectively. Realistically not many use DX9 cards anymore, the majority of PC gamers have long ago bought DX11 cards to be able to play the latest titles.
DX12 MULTIADAPTER
Microsoft's new DirectX 12 Multiadapter technology creates a specialized coherent link between every GPU available inside of the PC, and lets them work together to provide as much performance as possible. We have both an Sapphire HD 6970 and a EVGA GTX 660 Ti FTW Signature 2 and NVIDIA is well known to block loading with rival cards present. Modern processors from both AMD and Intel now include basic vector capability. Windows Vista and above require DX9 minimum graphics however most modern CPU based integrated graphics are now supporting DX11.
The DirectX 12 Multiadapter works with split frame work instead of alternate frame seen with dual cards before. So each GPU can work on a separate part of the image. DirectX 12's aggregation will allow GPUs to work together that today would be completely mismatched, possibly making technologies like SLI and CrossFireX obsolete in the future. By focusing on one frame at a time, it will improve the twitch action in first person shooter games.
At present EATX motherboards are available with up to 5 PCI Express x8 slots, which is enough room for at least 4 dual GPU cards. The air cooled GTX Titan Z would then provide 8-way GPU performance which would deliver massive TFLOPS of IEEE754 single precision performance. Clearly this is more than the most demanding games can take advantage of. Using the air cooled Radeon HD 7990 this would be an 8-way GPU system as well.
DirectX 12 is something completely unclear at the moment, take everything reported about this with a big grain of salt. At least in theory, heterogeneous multi-GPU technologies for video games are possible, only these are not CrossFireX or SLI configurations we know today. In short, do not expect your old Radeon HD 7970 to significantly boost performance of your shiny new GeForce GTX 980 Ti. Perhaps, DX12 will let apps use "secondary" GPUs for certain tasks without significant synchronization-related issues.
Ashes of the Singularity is the first DX12 capable game that fully supports asynchronous shaders. We have noticed testing with a Radeon and a GeForce card were recognized. The game is sufficiently demanding to load even high-end cards easily.
BETTER PERFORMANCE
Some gamers use a 3-way LCD array. Using basic low cost 1080p panels requires dual enthusiast video cards to handle the load. DX12 is well suited to x64 to support the VRAM needed for ultra resolutions. Recent video cards are now offering 4096MB VRAM and some upcoming extreme cards are shipping with 8192MB.
DX12 FEATURES
DirectX 12 Parallelizes command list building and execution across CPUs
Coordinates workload across multiple GPU engines
Improves memory efficiency and reduces memory fragmentation
Improves frame rate stability with object caching
Enables direct hardware control and more game-specific optimizations
BETTER GAMES
EA's technical director for the Frostbite engine, Johan Andersson, has expressed his hopes for the future EA games using the new engine. While it would be a bit of an aggressive move, Andersson would like to see Frostbite games requiring Windows 10 and DirectX 12 by the end of 2016. We expect Windows 10 to be rapidly adopted through 2015 and into 2016.  Battlefield and other leading action games will benefit greatly with DX12. See the page on game performance.
So far we have not encountered any problems with the more recent games. We installed Freelancer to test the 3D capability and the game worked fine running at 1024×768. Command & Conquer: Generals also works fine. Chaser actually supports 1920×1080. Dues Ex also runs fine. Halo: Combat Evolved was more demanding and reviews in 2003 were done with 640×480 resolution.
We reasonably expect to see DX12 capable games later into 2016 after Windows 10 matures.
CD CHECKS
Securom, Macromedia, Starforce, Tagès and other protection systems are being rejected by W10 for security reasons (KB3086255).  This will affect thousands of games.
We have successfully moved many games into Steam or Origin. VirtualBox does not yet work with Windows 10 but its possible to dual boot.
WINDOWS STORE
Microsoft has completely revamped store that first appeared with Windows 8. Microsoft is now positioning Windows 10 for consumers to be able to get applications, games, music, movies and TB shows all from one convenient place.
GROOVE MUSIC
There is a new App that is included with Windows 10. It is able to import from iTunes. This has some potential with a tablet that is equipped with a larger capacity memory card. Groove can play MP3, M4A and FLAC files fine.
WINDOWS HELLO
The new Windows Hello is a biometric capability that simply uses facial recognition and fingerprint readers instead of user names and passwords. Our HP Stream 7 with its perfunctory webcam can use Windows Hello now. The Surface 4 Pro adds a fingerprint reader. These are then associated with your Microsoft account. Using one-way hash values, the images and fingerprint scans are secure.
HOLOLENS
Microsoft HoloLens is the first fully untethered, see-through holographic computer. It enables high-definition holograms to come to life in your world, seamlessly integrating with your physical places, spaces, and things. We call this experience mixed reality. Holograms mixed with your real world will unlock all-new ways to create, communicate, work, and play.
The visor glasses unit connected to an adjustable padded inner headband. The unit can be tilted up and down, as well as adjusted forward and backward in relation to the headband. To wear the HoloLens, the user uses an adjustment wheel at the back of the headband to secure it around the crown of their head, supporting the weight of the unit. The user then tilts the visor down in front of the eyes. The release version of HoloLens is projected to weigh around .4 kg
For the first time, holograms will become practical tools of daily life. Interact with them to learn, or create something new. When you share your ideas, show and tell from multiple perspectives. Your digital content and creations will be more relevant when they come to life in the world around you.
A special hardware helmet display is needed. Microsoft HoloLens is not a gaming peripheral, it's fully untethered, so you're not attaching Microsoft HoloLens to anything. It's a standalone holographic computer. It will cost well over $400 and likely early models will be close to $1000. The first wave of units are being developed for corporate users and consumer models will follow. The prototype seen at the Build 2015 is incomplete and a full model is not expected until 2016.
BETTER NETWORK MANAGEMENT
Windows 10 now delivers much better network management. One feature we liked with Windows 8 was the bandwidth used with each individual hotspot. Now Windows only looks at aggregate use.
Use details provides specific bandwidth use of each program and application. This capability is an extension to the task manager which can also monitor bandwidth use in real time. This will allow users to identify their true bandwidth requirements.
Windows 10 also extends on the capability first seen in Windows 8 with mobile network adapters. Our Compaq CQ10-450 has a Qualcomm Gobi 2000 mobile adapter for the GSM mobile network. Windows can be configured to minimize mobile bandwidth which works beside the specific bandwidth features.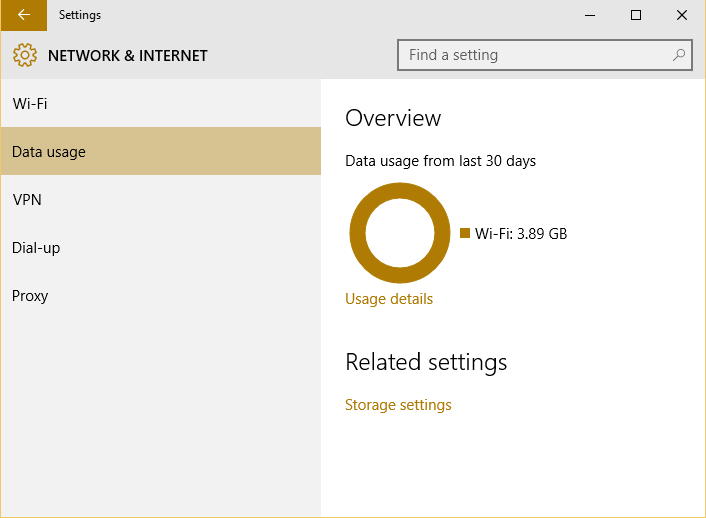 Now gamers can see at a glance if they have enough room to download a new popular title. Obviously, not many would want to download Grand Theft Auto V over a cellular internet connection. The game is an 80GB download.
The local cable company operates over 50,000 hotspots but while open, they are restricted to registered customers only. A few of them operate a second SSID as a guest service with a 5 minute session for an unverified account. Verified they limit the user to 500 MB. The service is provisioned for 5 megabit speed even though the box can support 300 megabit speeds.
CELLULAR OFFLOADING
WIndows 10 has some limited capability to use Wi-Fi instead of a cellular connection.
Android and iOS both have the capability to disable cellular data completely.
Wi-Fi Sense, if enabled, will continue to get you connected to open Wi-Fi hotspots that it knows about through crowdsourcing.
WINDOWS UPDATE
A new capability, enable by default, is to now use less internet bandwidth. Windows will now use other machines on a local network if the desired update is available. Mobile machines can grab updates from desktop machines etc. This can save a lot of PB each month when 1 billion users all need an update. Some ISPs already use update severs for their clients and Windows 10 simply expands on this idea more generally. Given the widespread use of mobile machines this make a lot of sense.
As seen in the Windows Store update. the apps are not automatically updated. This will likely be changed in the future but its something to be aware of for tablet users.
Microsoft is also reducing the amount of information about updates. The KB system will remain and it is now the main place for details.
One issue with updates, Windows will block connecting to the internet etc. to force a user to install updates. Mobile machines can be rendered useless for a long time. Earlier versions of Windows would show an icon on the system tray, but Windows 10 does not do that, instead it interferes with the work day.
DEFAULT APPS
Windows 10 now using the Settings > System -> Default Apps. The old way of using Explorer has been dropped. Instead now you are simply given a list of programs for images etc. This was done to prevent programs from all wanting to take control of this or that file type.
The Windows Store now has a much larger selection of apps to use. These are designed for mostly for mobile users however desktop users can also take full advantage.
With the explosion in the use of tablets, we can reasonably expect more and more apps for mobile use.
STEAM
NB: you need to manually add vpk files to be associated with Steam. With explorer, find any vpk file and right click on it. The select open with and select steam.exe which will eliminate problems with Windows 10.
Steam has no problem installing games from CD, DVD or BD backups. The Steam backup has not been modernized to support BD directly, several games can be stored in a Blu-Ray.
ORIGIN
Crysis and Crysis Warhead saved installers to the download cache. Remastered to ISO we can store several games to a Blu-Ray disk for installation. Windows has a defect that prevents the mounting of an ISO from an optical disk, forcing the files to be copied to a hard disk.
CRYOSTASIS
We obtained this game from NVIDIA from a promotion several years ago. We mastered an ISO for the game and burned it to DVD originally. Blu-Ray can store numerous game installers on a single disk.
NERO EXPRESS
We have several copies of Nero Express that have come with the support disks for DVD drives. We use this program to master new installers for downloaded installers.
We are forced to use Daemon Tools which can mount ISO images from any location so that we can more quickly install games.
SECUREROM
Sony's SecureROM does not work with Windows 10. This will affect thousands of games that use the DRM. We have successfully moved many games into Steam or Origin. There is no indication that Sony will fix their SECDRV.SYS so that it works within the security model in Windows 10. Virtualbox does not yet work with Windows 10 but its possible to dual boot.
WINDOWS SECURITY
See our page on Games and Networking. Microsoft has worked hard to deal with security problems in Windows. Windows 10 naturally will be the most secure version.
Windows 10 also features a new biometric security capability. Some machines already feature fingerprint readers etc. The new capabilities will help the development of more capable secure machines. With Windows 10, it's clear Microsoft wants to bolster security without opening up any new holes. All things considered, the security improvements Microsoft is making for Windows 10 sound very promising.
The Microsoft store is implemented a signed process to protect users however its a good idea to be alert as lots of problems manage to sneak it. Its not a bad idea to check the comments and ratings for any program in the store. This way users can get some sense as to whether the app is suitable.
One of the new security systems is designed for identity protection and access control. Microsoft says the feature protects users in case their devices are compromised which makes phishing attacks ineffective. The two-factor authentication mechanisms in Windows 10 relies on the user's device, which is the first factor, and a PIN or biometric (e.g. fingerprint), which is the second factor. An attacker would need not only the targeted user's PIN or biometric information, but also physical access to the device.
Our HP Stream 7 tablet PC features secure boot and the SSD is protected with BitLocker. A new layer of security deals with transient data that is now encrypted so that apps, emails, website content and other data are automatically encrypted when they arrive on the device from other locations. This is the reason we adopted http for our own site on Azure when it became available.
UPGRADE
If you are upgrading, you will find that child oriented accounts are now gone. They are replaced with standard user accounts. That means any existing age-related website controls, app and game restrictions, PC time limits, plus your ability to view recent activity, won't work on Windows 10. Microsoft has a new page on controls for Windows 10.
WINDOWS REPORTING
There are a lot of concerns over the way Windows 10 is collecting data from users. Some media compare it to the NSA for surveillance.
Some of the capability in Windows 10 such a speech recognition and facial recognition are still largely experimental. Microsoft research will be the biggest beneficiary. Speech recognition will be helpful with mobile users who may want to find a coffee shop etc. which will require location, and perhaps brand familiarity.
All text typed on the keyboard is stored in temporary files, and sent (once per 30 mins) to:
oca.telemetry.microsoft.com.nsatc.net
pre.footprintpredict.com
reports.wes.df.telemetry.microsoft.com
Telemetry is sent once per 5 minutes, to:
vortex.data.microsoft.com
vortex-win.data.microsoft.com
telecommand.telemetry.microsoft.com
telecommand.telemetry.microsoft.com.nsatc.net
oca.telemetry.microsoft.com
oca.telemetry.microsoft.com.nsatc.net
sqm.telemetry.microsoft.com
sqm.telemetry.microsoft.com.nsatc.net
You might think that "telemetry" has to do with OS usage or similar… turns out it's telemetry about the user. For example, typing a phone number anywhere into the Edge browser transmits it to the servers above. In another example, typing the name of any popular movie into your local file search starts a telemetry process that indexes all media files on your computer and transmits them to:
df.telemetry.microsoft.com
reports.wes.df.telemetry.microsoft.com
cs1.wpc.v0cdn.net
vortex-sandbox.data.microsoft.com
pre.footprintpredict.com
When a webcam is first enabled, ~35mb of data gets immediately transmitted to:
oca.telemetry.microsoft.com
oca.telemetry.microsoft.com.nsatc.net
vortex-sandbox.data.microsoft.com
i1.services.social.microsoft.com
Everything that is said into an enabled microphone is immediately transmitted to:
oca.telemetry.microsoft.com
oca.telemetry.microsoft.com.nsatc.net
vortex-sandbox.data.microsoft.com
pre.footprintpredict.com
i1.services.social.microsoft.com
i1.services.social.microsoft.com.nsatc.net
telemetry.appex.bing.net
telemetry.urs.microsoft.com
cs1.wpc.v0cdn.net
statsfe1.ws.microsoft.com
Interestingly, if Cortana is enabled, the voice is first transcribed to text, then the transcription is sent to:

pre.footprintpredict.com
reports.wes.df.telemetry.microsoft.com
df.telemetry.microsoft.com
EXTRAS
Checkout Windows.com for wallpapers or other extras for you machine.